World of opportunities with Printed Electronics in Denmark
Shweta Agarwala, MSc in engineering from Nanyang Technological University in Singapore and PhD in electronics engineering from the National University of Singapore, is a new assistant professor at the Department of Engineering, Aarhus University. Her research focus is printed electronics catered towards finding novel healthcare solutions.
In July 2011, a group of researchers from MIT, Massachusetts Institute of Technology, succeeded in printing photovoltaic cells, or solar cells, on paper. This was a revelation in the field of printed electronics – a technology that has existed for more than half a century.
Suddenly, a completely new market opened up that had previously been expensive, cumbersome and inaccessible. As a result, a great future is predicted for printed electronics in a wide range of other applications, according to Assistant Professor Shweta Agarwala, who has been researching the technology in Singapore for many years, and who has now brought her expertise to Aarhus University.
"When you go to the pharmacy today, you can easily buy a plaster or headache pills or a pregnancy test. However, you can't find out whether you're suffering from vitamin or calcium deficiency, for example. For this, you have to visit your doctor, who takes blood tests that can take days to analyse. It's an expensive, difficult process that you could do much better with printed electronics," says Shweta Agarwala.
She is currently researching how to replace PCB based electronics with flexible and soft platforms. This technology could enable for example cheap plasters with a built-in sensor that can take wellness readings or skin stamps that can detect whether a wound has healed or not.
(The article continues below the picture)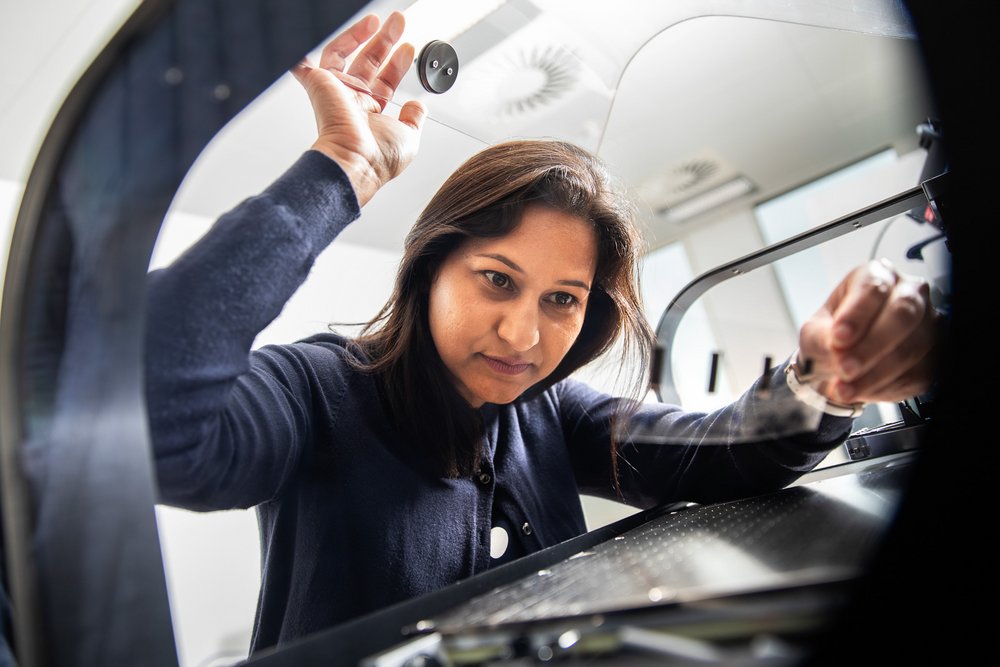 Assistant Professor Shweta Agarwala was born and raised in India and she took her Master's in microelectronics at Nanyang Tehnological University in Singapore. At Aarhus University she has just opened her now fully functional Printet Electronics lab and hired a PhD student to assist with her research. Photo: Lars Kruse, AU Foto.
Her expertise lies in printing electronic on a variety of different substrates such as paper, textiles, plastics and biomaterials with skin and human cells.
"One of the more interesting things I'm working on is bioelectronic devices, a field where electronics and biology come together. Here we try to encapsulate biocompatible 3D printed electronic in human cells. This will make soft implantable devices possible that do not trigger an immune response when injected in the body" she says.
Printed electronics are already being used for many different applications today. The advantage is that printed electronics are cheap to produce. RFID systems are a good example of printed, modern electronics that make possible wireless identification, and printed electronics are also widely used in the production of mobile phones, for example.
"This technology is still in its infancy, and there are many challenges to overcome especially printing on unconventional materials such as textiles. However, for this reason there are enormous opportunities for the technology in a vast number of different areas," says Shweta Agarwala.
Shweta was born and raised in India and she took her Bachelor's degree in electronics and communication engineering at M.J.P. Rohilkhand University in 2004. She then travelled to Singapore where she took her Master's in microelectronics at the prestigious Nanyang Tehnological University. She defended her PhD at the National University of Singapore in 2012 under the title "Nanostructured Materials for Dye-Sensitized Solar cells".
She worked as a postdoc at the Energy Research Institute in Singapore, and then went to Singapore Centre for 3D Printing to pursue research into printed electronics before travelling to Aarhus University. Shweta Agarwala is already an experienced industry project manager, and has now set up her fully functional Printed Electronics lab at the university with a PhD student employed.
---
Contact
Assistant Professor Shweta Agarwala
Mail: shweta@eng.au.dk
Phone.: +45 93521874