Robotic colleague takes over the production line at Aarhus factory
Monday 18 January was demo day at Jydsk Emblem Fabrik A/S in Malling – a 135-year-old family-owned company, which was demonstrating an intelligent, self-propelled, collaborative mobile robot manipulator system in its production processes.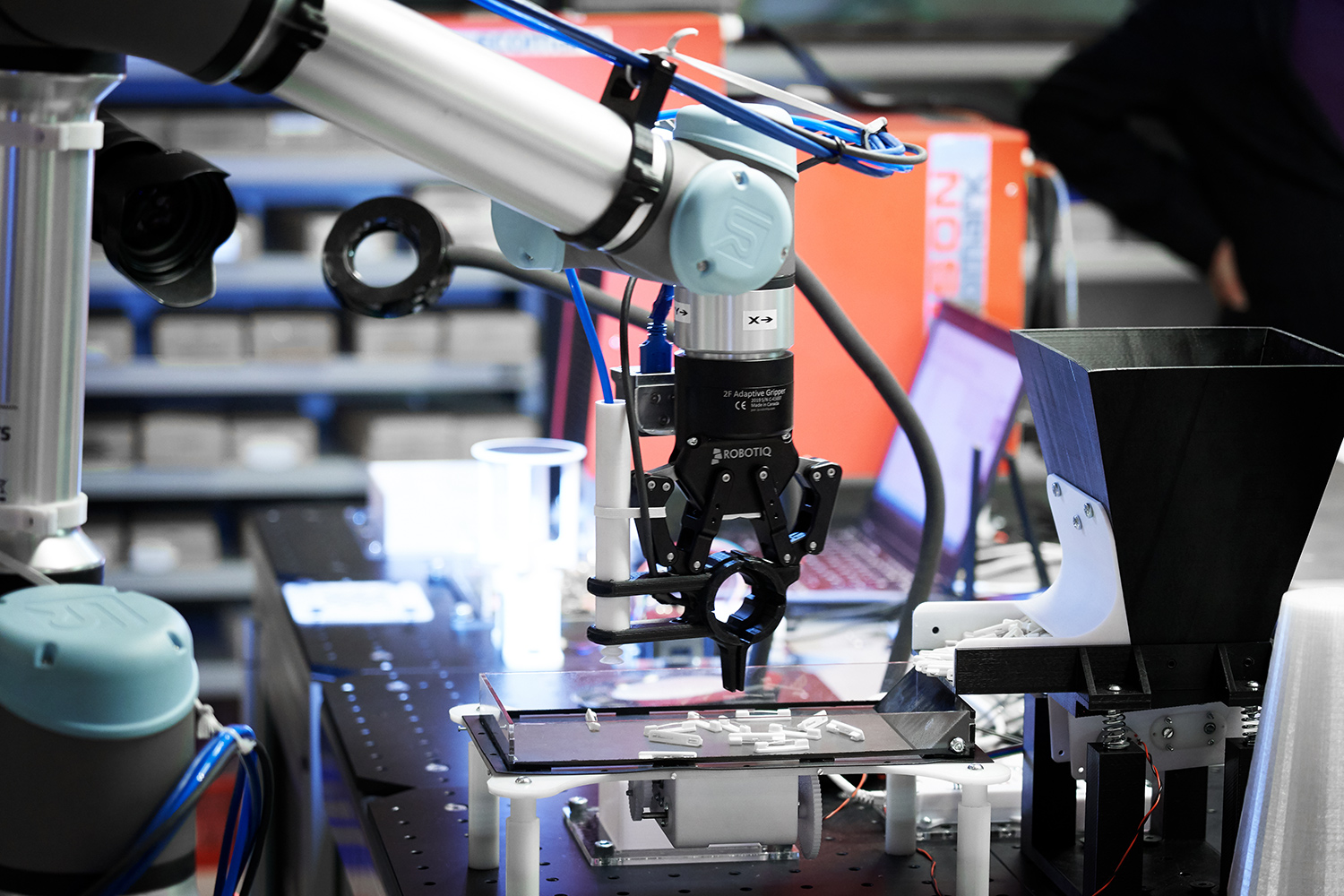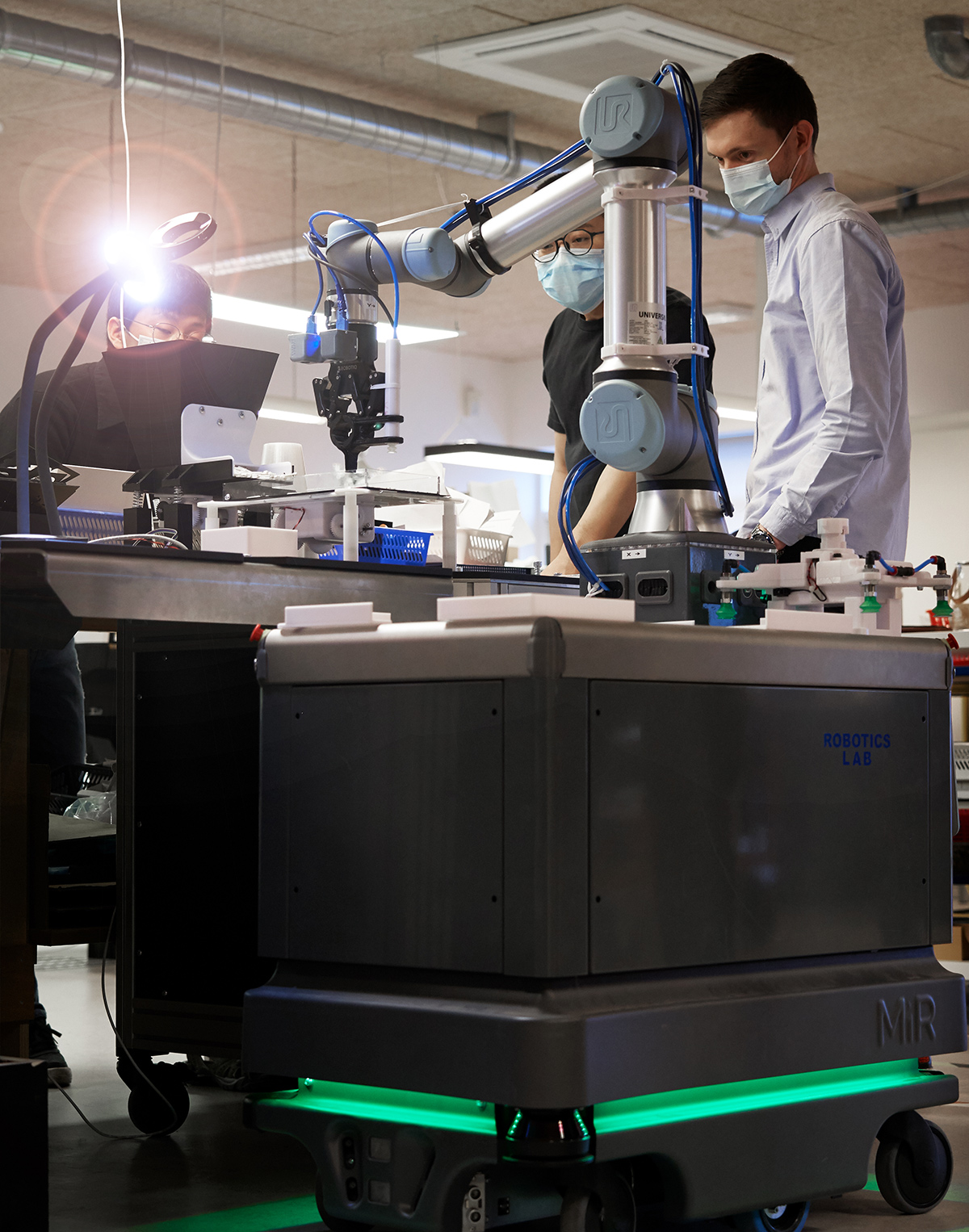 Jydsk Emblem Fabrik A/S in Malling, south of Aarhus has been producing medals, trophies, emblems, name tags and accessories for uniforms ever since 1886. And ever since 1886, human hands have been working on the production line.
But Monday 18 January was robot demo day, when researchers from Aarhus University installed a very special robot that, using advanced computer vision, a specially designed adaptive robotic gripper, and a self-propelled platform, can move between four different work stations in the factory and work fully with its human colleagues.
The objective is to have robots take over the most repetitive work so that the company can increase production and reduce the strain on its employees.
"We're very impressed with the technology, and we look forward to being able to relieve our employees with a robotic colleague that can take over repetitive and monotonous tasks in the production line," says director and co-owner Hanne Hørup.
Welcome to the Robots
Expert in collaborative robots, Associate Professor Xuping Zhang, has specially designed the mobile robot manipulator system to work on very specific production tasks at the factory.
Xuping Zhang and his research team have developed a customised and very versatile robotic gripper that can perform both large and small jobs. Using artificial intelligence and image processing, the researchers have equipped the robot arm with advanced computer vision, so that it can identify and perform its tasks.
The robot arm is installed on an intelligent, mobile platform, which can move between workstations avoiding people, fixtures and other obstacles.
(The article continues below the video)
"Apart from Monday's display of robots in our production line, we can now also see exactly what functions we can transfer to the robots in routine work. We still need the right tool, and we also have to actually buy the robot, but we look forward to welcoming it to our team and getting it up and running so we can move on with our plans for the future," says Hanne Hørup.
The director stresses that the robots will not replace employees, rather, they will be a partner that can provide a "huge boost in everyday life", as she puts it:
"By having robots do the most repetitive work, we can increase production and reduce the strain on our employees."
A lot on offer for Danish SMEs
Hanne Hørup has been a fan of collaborative robots, or cobots, ever since she was introduced to them at a robot fair seven years ago. She saw the great opportunities in the robots – especially for small and medium-sized Danish manufacturing companies:
"Many Danish SMEs are increasingly concerned about losing their competitiveness abroad, and I really understand that. But many of them have yet to see the potentials in Industry 4.0. That's a shame, because opening up for these opportunities, including robots, is just fantastic, and there's actually a lot on offer for companies like us to help us start using them," she says.
The demonstration day is the culmination of the Industry 4.0 development collaboration that Jydsk Emblem Fabrik A/S and the machine supplier NIZE Equipment joined eighteen months ago.
The collaboration is called "Integrating Human-Robot Collaboration into Danish SME Manufacturing and Production" and it is part of Aarhus University's Industry 4.0 development programme (Smart Industry), which will strengthen growth and innovation among SMEs in the Central Denmark Region through innovative collaborations between companies and knowledge institutions.
The companies only invest in the work hours spent on the programme, which is being funded by the EU Regional Development Fund and the Central Denmark Region with just under DKK 1 million (EUR 130,000).
---
Contact
Associate Professor Xuping Zhang
Mail: xuzh@mpe.au.dk
Tel.: +45 41893167