Data scientist affiliated with AU Engineering
Bo Thiesson from Enversion A/S has been appointed Honorary Professor of Machine Learning at the Department of Engineering, Aarhus University. He is one of the world's leading experts in the application of computer intelligence for developing advanced technology products.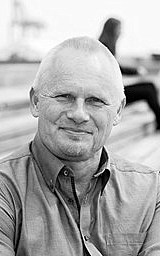 Bo Thiesson has an extensive research background in the business sector, having worked for companies that include Microsoft in Seattle. In 2015, he was appointed Analytical Director of Enversion A/S, a Danish data company that provides services in managing and analysing health-related data.
He is also Associate Professor at the Department of Computer Science, Aalborg University.
Read more (in Danish only) below. For contact details in English, go to the bottom of the page.
Nye muskler til Big Data
Bo Thiesson skal bidrage til at styrke AU Engineerings forskningsdiscipliner inden for computerteknologi med særligt fokus på decision analytics og machine learning til sundhedssektoren.
"Vi har store forventninger og planer for dette samarbejde. Vi stræber efter at vores forskningsindsats inden for computerteknologi kommer i den internationale elite. For at få global indflydelse er det helt afgørende, at vi får sammensat et stærkt forskningsteam med forskellige kompetencer. Bo Thiesson har højt specialiseret viden indenfor en af de mest dominerende vækstteknologier overhovedet, og han har erfaring med at omsætte sin viden til innovative løsninger med kommercielt potentiale," siger Thomas S. Toftegaard, Institutleder ved Institut for Ingeniørvidenskab, Aarhus Universitet
Også godt nyt for studerende
Bo Thiesson fremhæver desuden, at han glæder sig til at bidrage til at deltage i undervisningen af civilingeniørstuderende:
"Faget betyder meget for mig, og jeg håber, at jeg med min baggrund fra både forskningsverdenen og industrien kan præge og inspirere mange ingeniørstuderende. De får en enorm stor indflydelse i samfundet i de kommende år," siger han.
Hos Enversion A/S glæder man sig også over analysedirektørens nye udfordringer:
"Vi er begejstrede for samarbejdet med Aarhus Universitet. Vi glæder os helt vildt til at blive en del af det spændende arbejde, der kommer til at ligge i at bygge et videnmiljø inden for Decision Analytics op. Enversion A/S får helt bestemt nogle spændende udviklingsmuligheder via dette samarbejde," Jacob Høy Berthelsen, Founder af Enversion A/S
For more information, please contact
Honorary Professor Bo Thiesson
Department of Engineering
Aarhus University