Department of Engineering
New AU researcher aims to make workplaces safer with computer technology
Nothing much has changed since the safety helmet came into fashion at workplaces all over the world in the aftermath of the First World War. Associate Professor Jochen Teizer wants to do something about that. He uses digital twins, Internet of Things (IoT), and Mixed Reality to pro-actively prevent accidents at the workplace, alert workers of dangers in real-time and personalize education and training.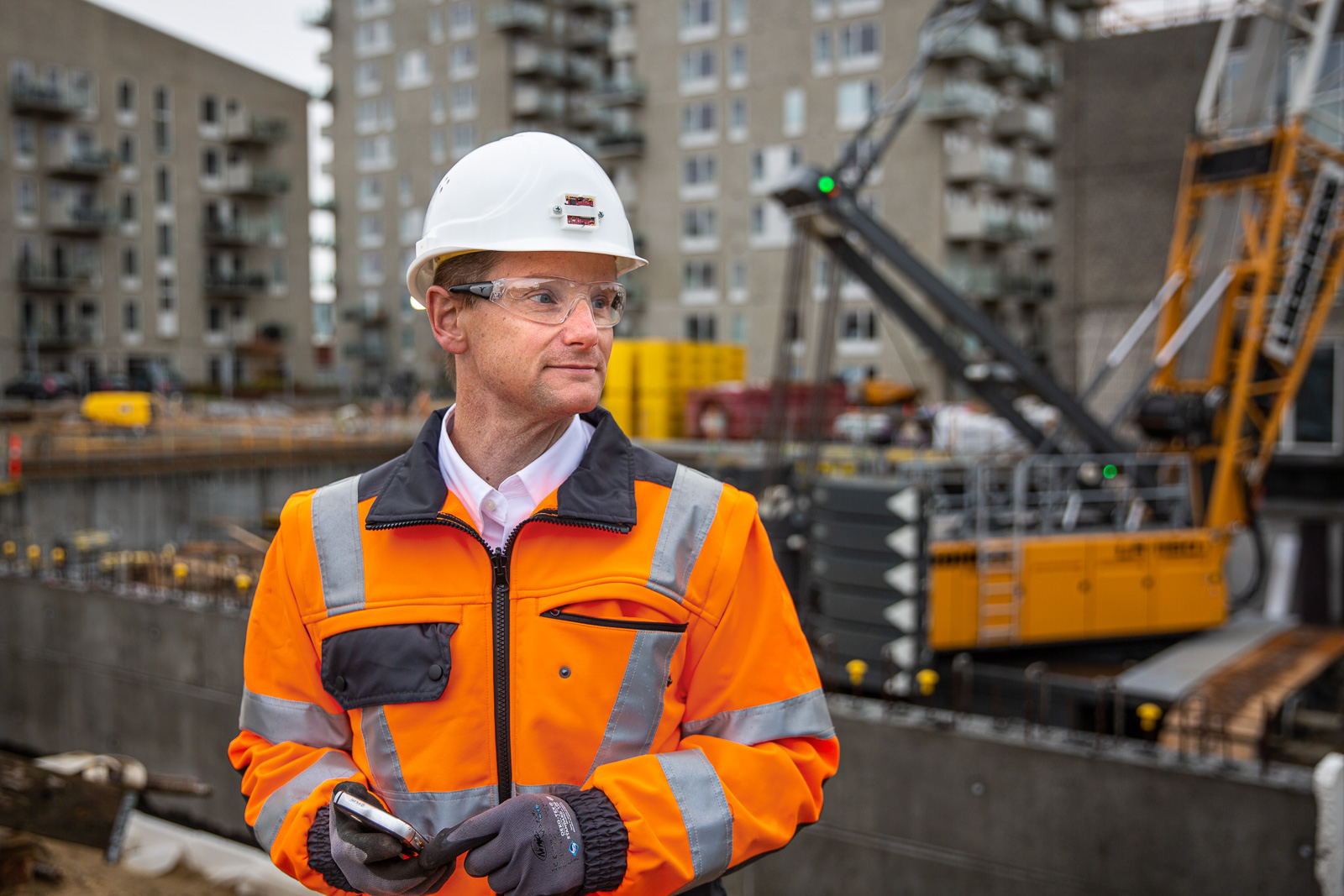 Tens of thousands of workers die and millions are injured every year at workplaces throughout the world as a result of accidents. And many of these take place on building or infrastructure sites. In the US alone, construction-related accidents are responsible for more than one in five deaths, and approximately 25 per cent of these involve large machines.
And even though deaths and injuries can have severe consequences for the persons, their family and relatives, businesses and even society, there aren't many countries that think about safety as much as the Scandinavians.
This is a pity, according to Jochen Teizer, a new associate professor at the Department of Engineering, Aarhus University, who has devoted his professional career to improving safety and productivity at workplaces, in particular in dynamic and complex construction sites.
"Every cent you invest in safety will earn itself back three times through achieving additional improvements, and that's why I think it's a shame that more countries aren't following the Scandinavians' strong focus on safety. That's why safety and productivity go hand in hand! I have seen several businesses go unnecessarily bankrupt due to accidents and poor work practices. Much of this could be avoided with stronger focus on safety in the first place," he says.
Human capital is first priority
Associate Professor Jochen Teizer is an award-winning German engineer, who has now settled in Denmark to pursue his research career at Aarhus University. He's won several industry and academic prizes, one of which for the SmartHat 4.0 – a safety helmet equipped with sensor technology that, among other things, pro-actively warns workers of immediate dangers in real-time.
However, Teizer hasn't only worked with personal protective equipment (PPE) like helmets. He tries to incorporate modern technology in all aspects of a project's lifecycle phases. In order to design out hazards already at the planning phase, he successfully invented automatic safety rule checking for Building Information Modeling (BIM). By introducing IoT-based services built into building elements, workwear and shoes, he measures, analyses and visualizes unsafe behaviour in a workplace objectively and in real-time. He designs and tests virtual construction games for more effective, personalized education and training.
(The article continues below the picture)
Personalized education and training is paramount for optimal safety on workplaces. Here, the training is done virtually. Photo: Jochen Teizer.
"Human capital should be prioritised above everything else, and this is why safety is so important. We all work best in a safe and secure environment, and I hope that more countries will begin to adapt new technologies to the same extent as they do here in Denmark, for example. It's important to understand that, in this context, technology is not an enemy, but a helper. An assistant that can give us a number of benefits," he says.
Jochen Teizer was born and raised in Karlsruhe, a stone's throw away from the fabled Black Forest. As the son of a construction manager, Jochen himself started his engineering studies at the Karlsruhe Institute of Technology and subsequently went to the US, where he took his PhD at the University of Texas. He has taught and researched for several years at the Georgia Institute of Technology, the Technical University of Munich, Osaka University, and Ruhr-Universität Bochum.
---
Contact