Researchers can now measure odour
It usually requires a nose to be able to smell, but researchers have now succeeded for the first time in developing a convincing method to measure odour from pig houses by precisely registering odour concentrations in the air.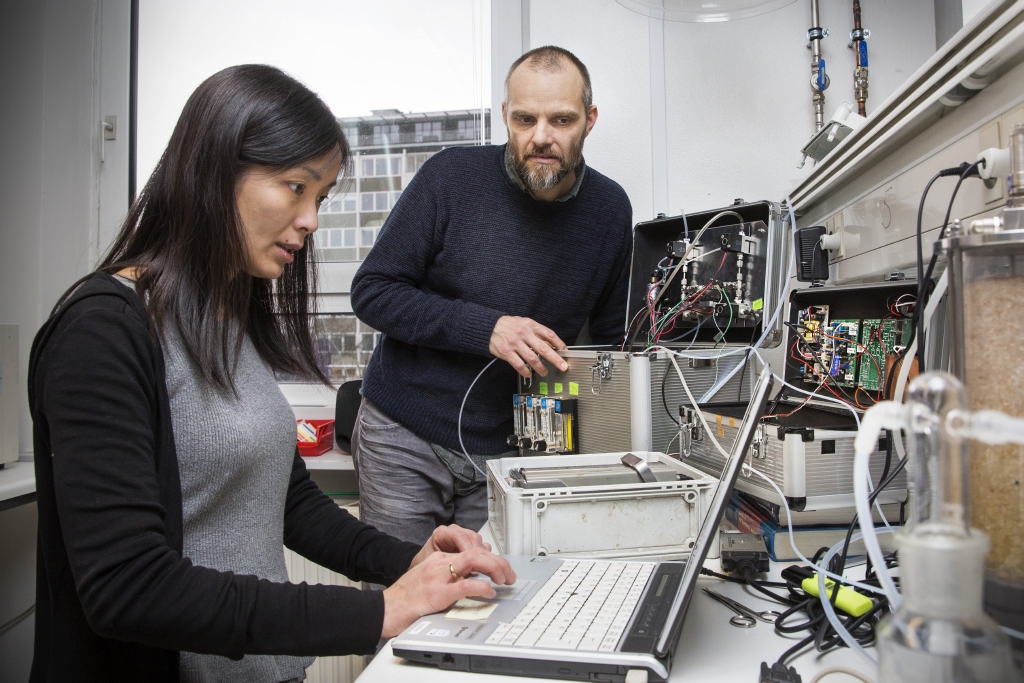 How much and how bad does a pig house smell? This question can now be answered by means of chemical technology developed by researchers at Aarhus University in collaboration with SEGES.
The technology is called PTR-MS (proton transfer reaction mass spectrometry) and it provides researchers with the major advantage that they can take samples directly from the air and analyse the content of the odorant chemical compounds, even in very small amounts and in great detail.
Read more (in Danish only) below. For contact details in English, go to the bottom of the page.
"Vi kan bruge teknologien til mere præcist at sige noget om de lugtstoffer, der findes i staldluften, og hvad de betyder for oplevelsen af lugt hos mennesker," siger Anders Feilberg, lektor ved Institut for Ingeniørvidenskab.

Teknologi vs. menneskelige næser
I dag sker lugtmålinger ved hjælp af sensorisk respons fra mennesker. Her bliver prøverne indsamlet fra staldene i særlige luftposer og afleveret til en række trænede eksperter, der beskriver lugten.
Problemet med denne metode er, at lugtstofferne kan ændre sig i det tidsrum, der går fra opsamling af luft i stalden, til prøven når frem til næserne i laboratoriet, forklarer Anders Feilberg:
"Med den nye teknologi kan vi lave vores målinger på stedet, så vi undgår, at lugtstofferne ændrer sig, og vi kan opnå en markant højere detaljeringsgrad i vores målinger, så vi kan se mere præcist, hvad det er, der gør, at mennesker opfatter lugten som fæl".
I de seneste år har forskerne arbejdet systematisk med at indsamle data og udvikle en model, der kan identificere sammenhænge mellem de kemiske lugtmålinger hos svineproducenterne og den lugt, som menneskets næse opfatter.
Fæle lugtstoffer i spotlyset
Til formålet har de udviklet et mobilt laboratorium og gennemført i alt 115 samtidige kemiske målinger og lugttests udført af et panel af øvede lugteksperter. Derefter har de sammenlignet den variable respons fra de menneskelige næser med de mere præcise kemiske målinger af lugtstoffer direkte i staldene.
"Vi har opbygget stor viden om kemiske lugtstoffer og udviklet en model, der kan forudsige, hvordan lugten i en given svinestald vil opleves hos mennesker. Det betyder, at vi kan vurdere staldenes lugtudledning meget mere nøjagtigt, og det betyder også, at vi får et meget bedre udgangspunkt for at udvikle ny teknologi til lugtreduktion," siger Anders Feilberg.
Det omfattende studie peger på især to "syndere" blandt de mange kemiske grupper af lugtstoffer i staldene.
"Vores mange data viser, at især fenoler og indoler spiller en stor rolle, når vi ser på sammenhængen mellem de kemiske målinger af lugtstoffer og menneskers sensoriske respons," siger Anders Feilberg.
Det er første gang, forskere kan dokumentere, at kemiske målinger af lugt i staldene kan bruges som alternativ til sensoriske tests.
The results have been published in the scientific journal Atmospheric Environment.
For more information, please contact
Associate Professor Anders Feilberg
Department of Engineering
af@eng.au.dk
mobile: +45 3089 6099