Membrane project to store green energy in soil mounds
Not only batteries can store wind energy. Two master of science in engineering students from Aarhus University are working on a project that, using a huge balloon, and tonnes of ordinary soil and water, will make a giant battery for renewable energy.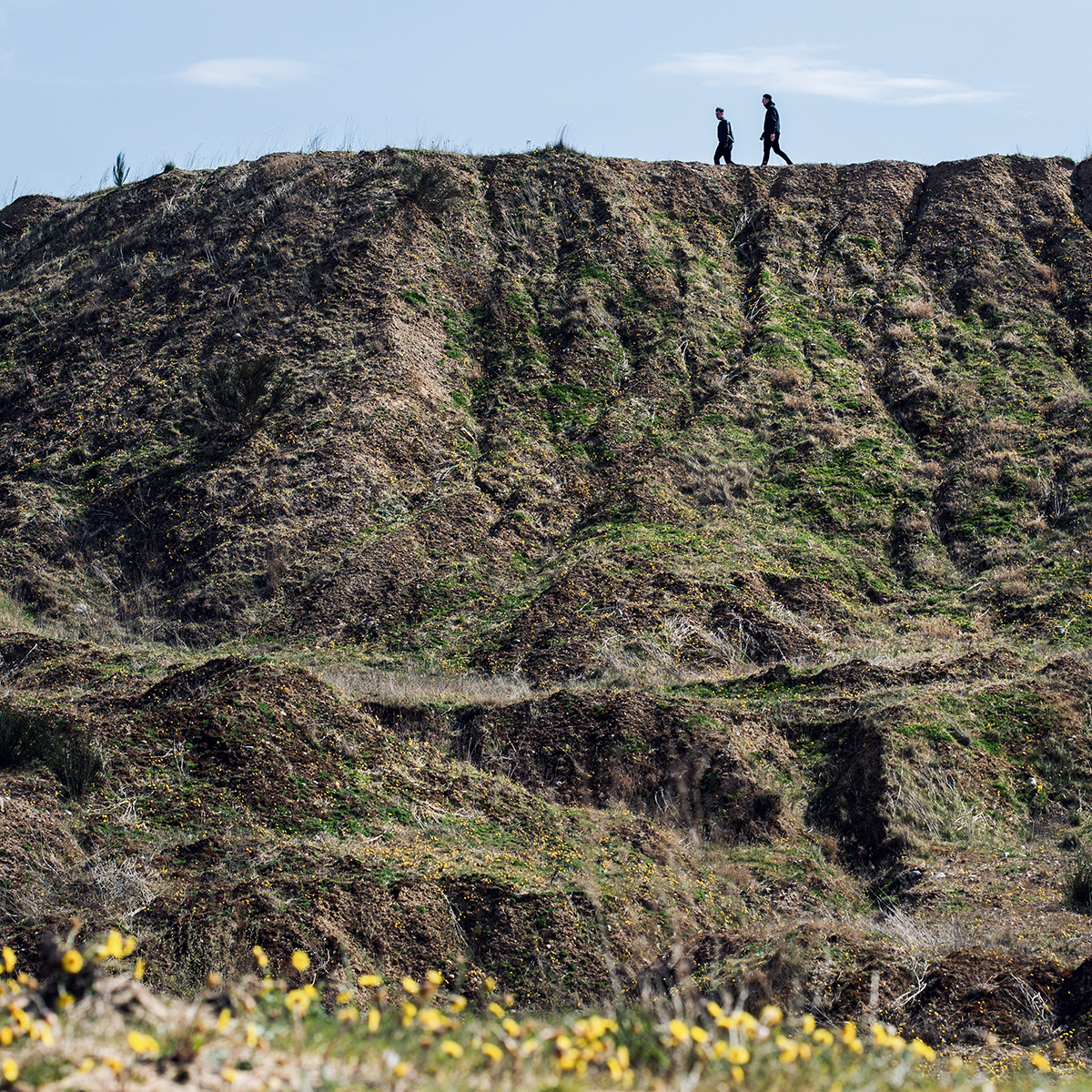 One of today's major problems is to find smart, low-tech solutions to store renewable energy, for example from wind turbines. Because if it is windy at night, when Denmark is asleep, what do we do with the large amounts of energy generated by the wind turbines?
Today Denmark sells the energy to other countries, but this means there may be a shortage of green power when it is needed. Therefore, two civil engineering students from Aarhus University, Peter Norlyk and Kenneth Sørensen, started a project that may completely revolutionise the way we manage electrical energy in Denmark.
ALSO READ: Soffi develops greenhouse gas membrane: "This really could be something big" (in Danish)
"The concept entails taking the surplus energy from wind or solar power that can't be used when it is generated, and storing it in a system. For example, you can store it at hydro plants in Norway by pumping water from reservoirs back up behind dams. When the energy is needed, the water is fed back through a turbine/generator, which supplies electricity to the grid. We can't do this Denmark because we have no hydro-electricity plants, but the idea is almost the same - just on flat ground," says 31-year-old Peter Norlyk, who is studying for an MSc in civil and architectural engineering.
A 14-metre-high mound
The project has been started by the entrepreneurial business, AquaNamic, and innovator, Asger Gramkow. In simple terms, it uses surplus energy to pump water from a reservoir into a huge, specially designed membrane buried under an enormous amount of soil.
And the figures involved are certainly impressive. AquaNamic aiming at a full-scale balloon of 330 x 330 metres, buried under thousands of cubic metres of soil that will be raised by up to 14 metres when the balloon is filled up. This will store 230 MWh.
(The article continues below the image)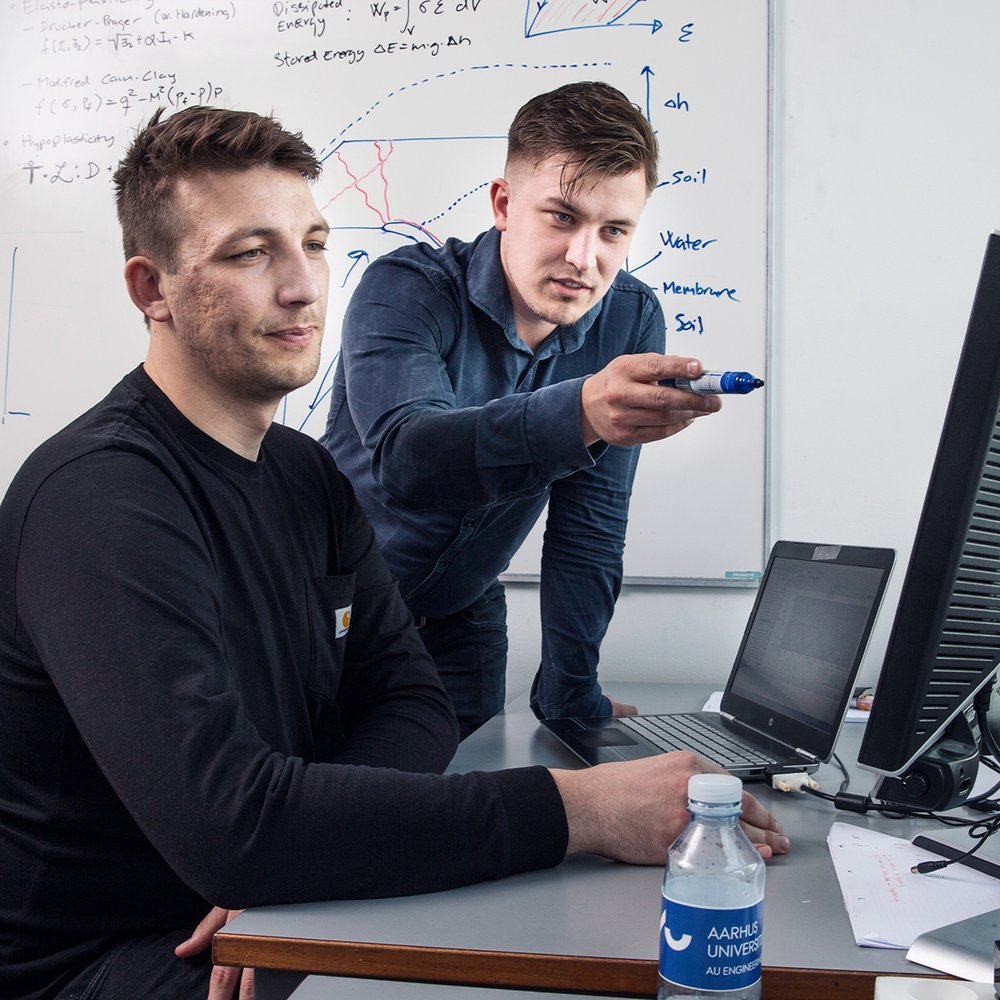 "Being able to contribute to such a large-scale project while I'm still studying just makes everything even more fun. Everything we've learned is at play in this project," says Peter (left), who originally qualified as a carpenter before throwing himself into engineering. Photo: Lars Kruse/AU Foto.
ALSO READ: AU researchers develop the carbon-free fuel of the future from air, water and electricity
When the energy is needed again, the valve opens and the tremendous pressure of the soil pushes the water out of the balloon and through an electricity-generating turbine. The company expects an efficiency of around 85 per cent, which corresponds to the technique at hydro power stations.
"The crucial factor for the efficiency of the system is energy loss. And this is what we are so interested in for this project," says 25-year-old Kenneth Sørensen, and he continues:
"We want to retain as much energy in the system as possible, and this is a complex process with such a large system, which in principle will fill up every night, when the turbines are spinning and the world is sleeping, and then empty every day, when the energy is needed. But every time the soil moves, the system is deformed, and these deformations contribute to the energy loss. They're called plastic deformations. Our job is to optimize the system, using advanced calculation models."
ALSO READ: Aarhus University opens Denmark's first Centre for Digital Twins
So far, the two engineering students have demonstrated that it is possible to set up a calculation model of how the system behaves physically.
"This technology has great perspectives for a country like Denmark, where we do not have the geological formations found in Sweden and Norway. Quite simply, it's a way to build a system that, at least in theory so far, can store rather a lot of energy," says Peter Norlyk.
The big projects are the interesting ones
Neither Peter nor Kenneth come originally from Aarhus, and neither of them actually planned to be engineers. Peter comes from Thyregod in Southern Jutland and originally qualified as a carpenter, with an ambition to follow a career in handball, but a shoulder injury put paid to that early on.
"I didn't really mind. After far too many rainy days on building sites, I was ready for something else. I talked to a friend about becoming an engineer, and I just think it worked out for me. And being able to contribute to such a large-scale project while I'm still studying makes everything even more fun. Everything we've learned is in play in this project: All the maths and physics theory, as well as everything about materials and programming. And we're really challenged by our supervisors. It's great, because everything you learn, and all the theory, is put in a new perspective. You can go more deeply into a subject in an entirely different way. And we've got some very competent supervisors, who give us the academic push we need and help us with the challenges we meet along the way," says Peter Norlyk about his Master's thesis project.
READ MORE: New profile magazine from the Department of Engineering
For Kenneth, who hails from Esbjerg, maths and physics at school determined the outcome of his choice of study.
His father is a carpenter, and Kenneth thought that he would also take that road. But he was just too good at maths and physics, and he decided to continue his studies at upper secondary school:
"I was well aware that engineers use maths and physics in construction. That appealed to me, because I've always liked to hear my father talking about new building projects. Combining the two was just right for me. So I started on the engineering degree programme, and I was quickly hooked. It actually turned out to be fun to study, and I got a taste for continuing to take my Master's. Therefore, I went to Aarhus to take an MSc in Engineering, and I've never regretted it," he says.
Both Peter Norlyk and Kenneth Sørensen will graduate with their Master's thesis in geotechnics in summer 2019.
---
Read more about engineering degree programmes:
---
Contact
Jesper Bruun
Communications Partner
Mail: bruun@eng.au.dk
Phone: +45 42404140