Drug recycling and 'banapples': Engineering innovation captures Skejby
AU Engineering's new research facility, the Deep Tech Experimental Hub in Skejby, was crammed with engineering students when this year's "invention pitch" kicked off.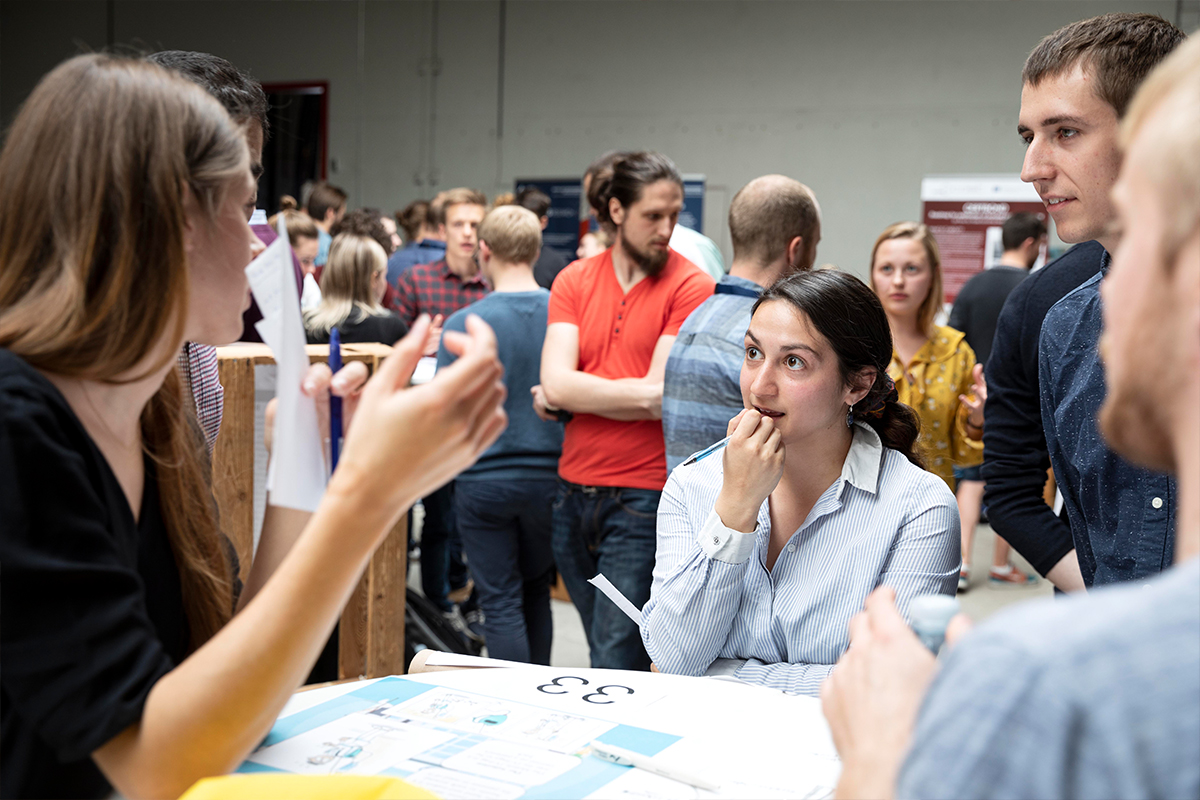 As many as 250 engineering students from different study programmes at Aarhus University have spent a semester inventing ideas for technological solutions within health technology, food technology and renewable energy technology, and on Tuesday 14 May, they pitched their ideas and inventions at a major event in the university's new experimental hub for engineering research in Skejby.
This day marked the culmination of the 9th semester course Innovation & Entrepreneurship, during which the students invented and developed ideas and products within disruptive business technology over four months. The students had very different approaches to how we can make the world a better place, save the planet's resources, or help solve some of the many other problems facing humanity.
"A fantastic event," says Henrik Larsson, CEO of the Centre for Industry, one of the many experts from the business community invited to assess the students' inventions:
"The world is full of problems; an awful lot of them in fact. In a way this is a good thing, because it forces us to think differently and be innovative. It's important to focus on innovation and entrepreneurship, and it's fantastic to see the eagerness of the young engineering students. Some of them have some really good ideas to solve problems that are changing the world," he says.
For example, together with a company, a group of engineering students within construction, mechanical engineering, biotechnology and biomedical engineering have invented a refrigerated storage unit, which is basically a sustainable giant fridge that can keep food fresh for longer using electricity from solar cells.
This technology was actually specifically requested by the international organisation Engineers Without Borders for a specific problem in Sierra Leone, and it may be a welcome helping hand to food manufacturers in other African countries, which often have problems storing products.
"This may be a farmer who doesn't have the capacity to store vegetables, but instead – at best – is forced to sell them immediately. Often at a very low price. This solution, combining green energy with a simple technology provides the manufacturer with completely new opportunities – for example, to grow high-value products instead of just crops that can stay fresh for as long as possible," says Niron Nirmalananthan, one of the engineering students behind the project.
(Article continues below the image)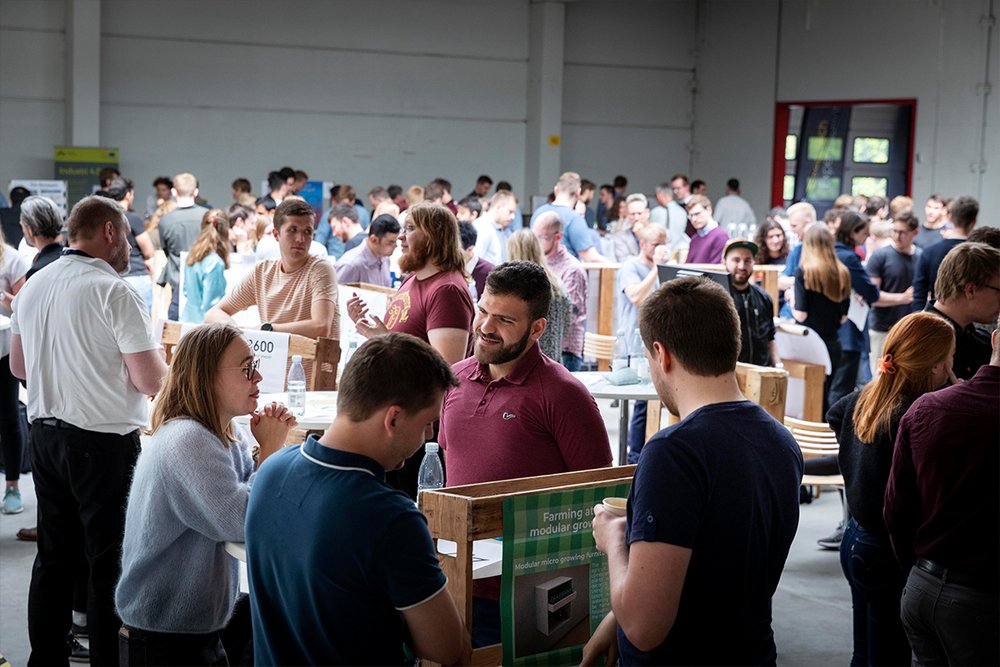 Photo: Ida Marie Jensen, AU Photo.
Another group had looked at an entirely different issue. Every year, on average, in the US alone, about 40 children die from overheating in cars – often because they have been forgotten by their parents or guardians.
"I'd read about a baby here in Denmark who died from overheating after being left behind in a car. This turned out to be a rather serious problem in the US in particular. We've therefore developed a car seat that automatically cools down the child sitting in it, while at the same time alerting the parents that something is wrong," says Emil Navntoft, who is studying mechanical engineering, and has invented the KinderCool concept with fellow students Tenna Rasmussen and Henrik Torvund.
The event was full of similar good ideas.
A group had looked closely at the enormous global waste of medical drugs and suggested a solution to buying and selling unused surplus drugs.
(Article continues below the image)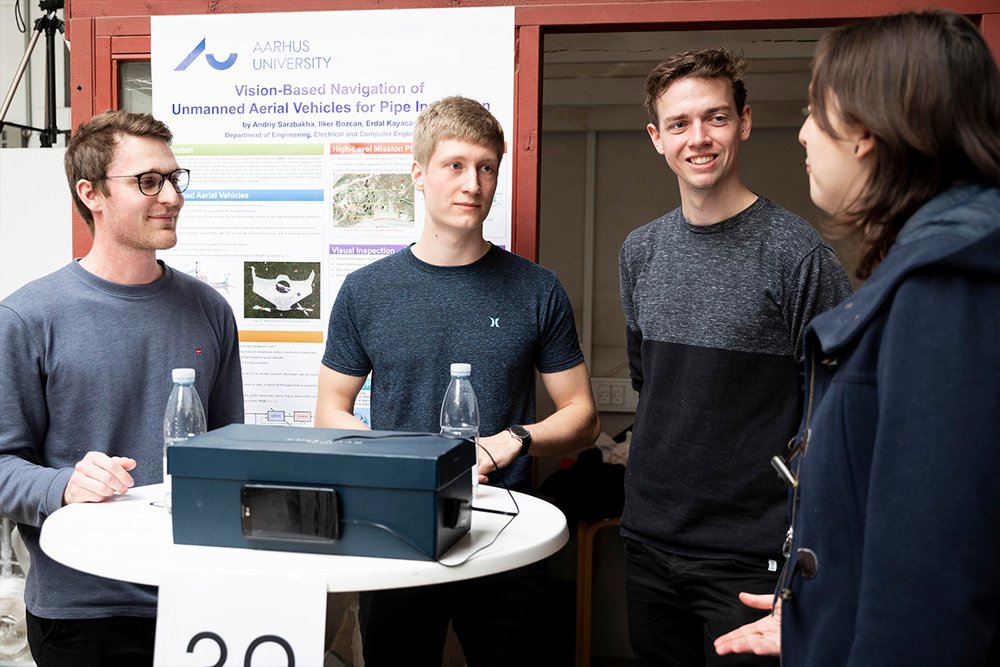 Photo: Ida Marie Jensen, AU Photo.
Another group had a radical proposal for putting a stop to the huge plastic problem facing the planet, which involved copying nature's own packaging. Plastics are a major problem for marine species in particular. All species of sea turtles, 59% of all species of whale and seabirds, and one-third of all seal species have been found with plastic residues in their body, and the idea behind the project was to help resolve this enormous problem.
A third group also wanted to help with the plastics problem. They had invented a machine which, like ordinary coffee machines in kitchens, can make beverages without using a cup. Instead, the liquid is contained in a gel-like bubble that dissolves when you put it into your mouth. This can prevent the negative impact on the environment from the enormous use of disposable plastic cups.
Aarhus University's "invention pitch" took place on 14 May at the Department of Engineering's new, experimental research facility in Skejby - Deep Tech Experimental Hub: a 2,100 m2 research hall, where the department conducts close-to-industry research within classical engineering.