Aarhus University invests heavily in new MSc in Engineering programmes in 2019
In summer 2019, Aarhus University will be offering three new five-year MSc in Engineering programmes and thereby opening 240 additional student places.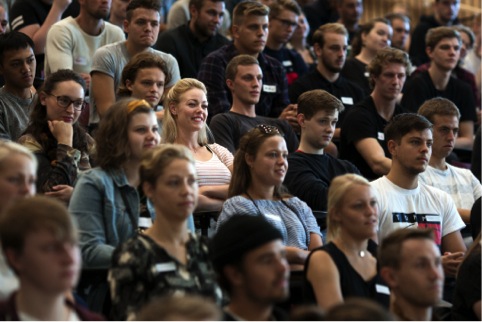 As part of a major strategic focus on the technical sciences, in 2019 Aarhus University will be opening three new five-year MSc in Engineering programmes.
In the summer of 2018, students started on two new MSc in Engineering programmes in Biotechnology and Chemical Engineering, respectively, and now the next three MSc in Engineering programmes in the series have been given the green light from the Ministry of Higher Education and Science.
"We're being extremely ambitious here. In recent years, we've spent huge resources on procuring new experimental facilities and attracting researchers from the world's best universities within the technical fields. Now we're ready for another three new MSc in Engineering programmes with the same structure as the best in the world," says Thomas S. Toftegaard, head of department at the Department of Engineering, Aarhus University.
See the list of engineering programmes at Aarhus University here
The three new programmes, MSc in Engineering in Civil and Architectural Engineering, MSc in Engineering in Computer Engineering and MSc in Engineering in Electrical Engineering will be open for applications from 1 February.
Strong demand for more engineers
Since 2012, Aarhus University has increased its intake on engineering degree programmes almost every semester, and currently approx. 3,500 students are enrolled at the university. But unfortunately this is far from enough to meet the demand.
"The business community has an acute need for more engineers. It is vital for companies' innovation and competitiveness that as a university we can help to secure a sufficiently large and qualified recruitment base of the very best graduate engineers," says Thomas P. Toftegaard.
ALSO READ: Researchers discover unique property of bendy straws
Kim Kofod Hansen, development director in regional development at the Central Denmark Region welcomes the university's investment in the new five-year MSc in Engineering programmes.
"This is good news for Aarhus and for the rest of the region. It'll probably mean that our companies will find it easier to attract engineers and thereby contribute to growth and development," he says.
The latest forecast for the shortage of engineers in Denmark (Statistics Denmark 2018) shows that Denmark will lack 6,500 engineers in 2025.
New study programmes among the world's best
The new five-year MSC in Engineering programmes are research-based from day one, and the students will be taking part in scientific projects from early on in their study programme.
The aim is to educate engineers who can develop the advanced technology needed to solve our most serious global challenges.
"We want to educate engineering graduates with a qualification profile that enables them to become front-runners for many major changes in society. This requires a high degree of technical expertise, but also a good deal of academic training, scientific literacy and critical interdisciplinary thinking. We're the very best placed to provide all of this for our students at this university," says Thomas P. Toftegaard.
Aarhus University is at the top of the World University Ranking 2019, at no. 123: in front of all other Danish technical universities.
See Times Higher Educations World University Ranking 2019
---
Read more about the individual five-year MSc in Engineering programmes below:
Biotechnology
Chemical Engineering
Civil and Architectural Engineering
Computer Engineering
Electrical Engineering