Public / media
AU Engineering
Team AU ready for the Shell Eco-marathon
The countdown has begun for this year's world championship in ultra-energy-efficient vehicles. After two years of intensive development work, Aarhus University (AU) will now enter an ultra-efficient eco-car in the Shell Eco-marathon, which kicks off in London in June. The aim is to drive almost 9000 kilometres on the equivalent energy of one litre of petrol.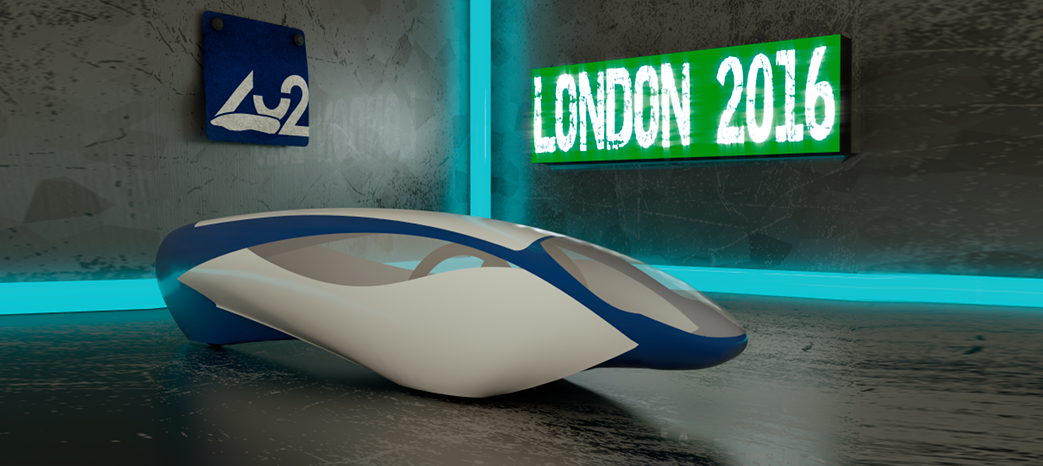 No fewer than thirty engineering students are involved in building the university's new eco-car, which will be ready in June for the international Shell Eco-marathon 2016.
Read more (in Danish only) below. For contact details in English, go to the bottom of the page.
Det seneste år har Team AU valgt at holde pause fra konkurrencen for at fordybe sig i et nyt og innovativt bilprojekt, og i alt ligger nu mere end 20 afhandlinger og rapporter fra både semester-, bachelor- og kandidatprojekter til grund for det endelige designforslag.
"Vi har været igennem en lang proces med idéudvikling og fordybelse i tekniske detaljer for at finde frem til det design, vi nu har besluttet os for at realisere. Vi har lavet alt fra bunden – både de elektroniske, aerodynamiske og mekaniske dele, og vi har derfor samarbejdet rigtig meget på tværs af ingeniørdiscipliner" siger Mathias Skovby, ingeniørstuderende ved Aarhus Universitet.
Se TEAM AUs præsentationsvideo her
9000 kilometer på en liter benzin
Bilen har fået navnet AU2, og den kan meget vel vise sig at være verdens mest energieffektive af slagsen. Det er nemlig lykkedes for de studerende at skære en tredjedel af vægten i forhold til universitetets økobil fra 2014, og hvis alt går vel, kan den tilbagelægge 1000 kilometer per kilowatt time. Det svarer til knap 9000 kilometer på en liter benzin.
I år har Shell Eco-Marathon nedlagt forbud mod brug af solceller på løbets biler, og det har skærpet konkurrencens udviklingsfokus på materialevalg og flowdesign, hvor de aarhusianske ingeniørstuderende står stærkt.
"Vi har arbejdet meget med materiale, form og flow. Nu skal vi i første omgang blive helt færdige med bilen, så vi kan deltage i et testløb og derefter tilpasse vores teoretiske beregninger til virkeligheden," siger Jakob V K Sørensen, ingeniørstuderende ved Aarhus Universitet.
Små detaljer tæller
Og det er netop de små detaljer, der tæller, hvis de studerende skal nå til tops med AU2 ved årets Shell Eco-Marathon i London.
Bilens skal er printet i en meget stor 3D-printer i laboratorierne på Aarhus Universitet, og det har gjort det muligt at formgive den, så den opnår en ekstrem lav luftmodstand. Derudover er materialevalget gennemtænkt med henblik på at reducere vægt, og bilen er tegnet, så den passer nøjagtigt til holdets fører.
Motoren er stadig under udvikling og testes løbende i en særlig simulator, der gengiver løbets bane i London. På den måde ved de studerende præcist, hvordan bilen skal bruge sin energi for at spare mest muligt strøm rundt på banen og nå i mål inden for tidsrammen.
"Konkurrencen er benhård, og det er i detaljerne, at forskellen på succes og fiasko findes. Men jeg vil tro, vi har en fordel i år, hvor vi har puljet vores viden og haft god tid til at nørde med detaljerne i designet" siger Thomas Klein, ingeniørstuderende ved Aarhus Universitet.
AU2, som mere ligner en raket end en bil, skal konkurrere imod over 30 andre universitetsbiler fra mere end 16 europæiske lande.
Team AU stiller op i klassen med navnet Prototyper med elmotor.
Background
Follow Team AU on Facebook here.
For more information, please contact
Engineering student Mathias Skovby
Aarhus University
+45 2240 0760
mathiasskovby@gmail.com