New research project to cure epilepsy with artificial intelligence
The Department of Engineering at Aarhus University is part of a new international research team with an EU grant of DKK 60 mill. (EUR 8.5 mill.). The aim is to try to find a cure for epilepsy with a ground-breaking treatment method.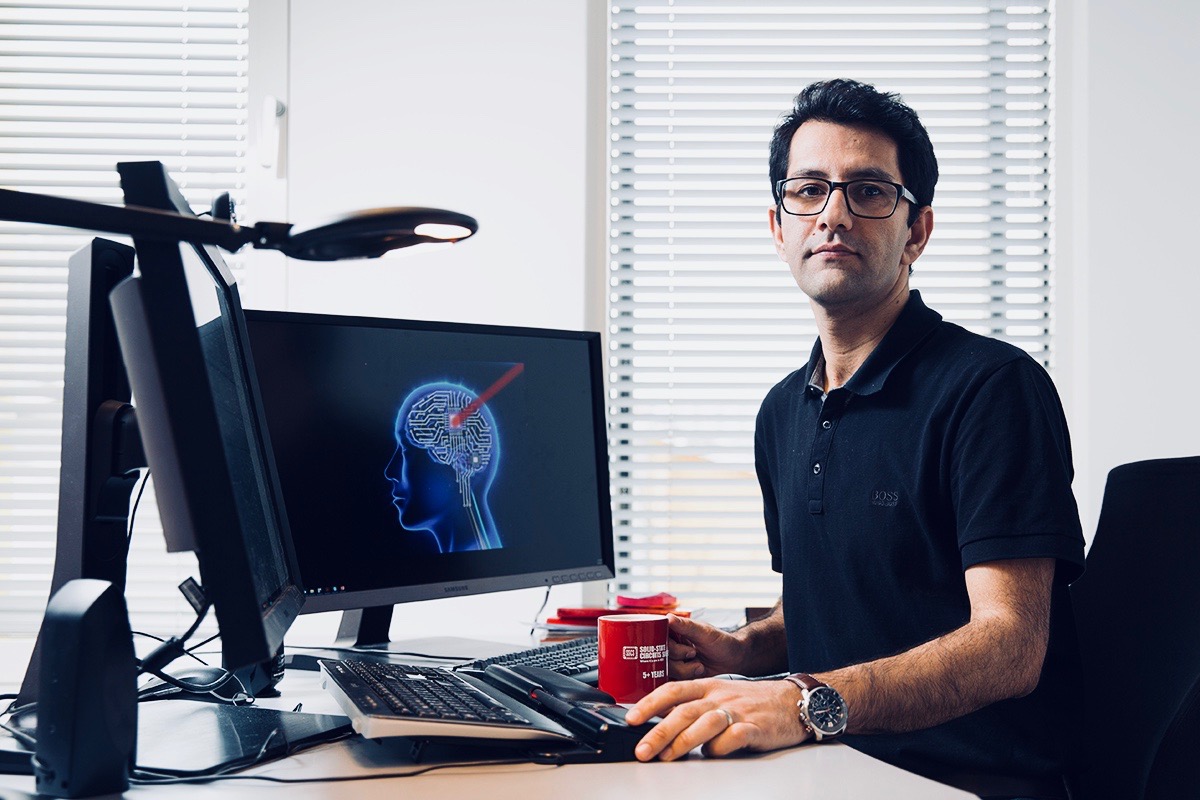 With a grant of EUR 8.5 mill. (approx. DKK 60 million) from the prestigious Future Emerging Technology (FET-Proactive) pool under the EU research and innovation programme, Horizon 2020, Danish researchers from the Department of Engineering are working with 11 other European organisations to find a cure for epilepsy.
The research project introduces a paradigm shift in the treatment of brain diseases because the goal is to insert a so-called biohybrid neuronics device in the brain itself, which, by means of both a biological and an artificial component, regenerates damaged brain tissue by means of artificial intelligence.
It is potentially ground-breaking, explains Associate Professor Farshad Moradi, who is an expert in nanoelectronics:
"We are putting effort into building a micro-scale, brain-like computing chip to train the brain on how to behave in case of a failure with help from artificial intelligence. This project is going to be carried out in close collaboration with neurobiologists in order to research and develop a reliable brain-like circuit in hardware enabled by neon-scale devices. Building such a brain-like chip potentially enables the healing of any damaged brain circuitry in future, if successful," says Farshad Moradi.
ALSO READ: Prestigious funding for new engineering projects
The research project, known as HERMES (Hybrid Enhanced Regenerative Medicine Systems), primarily involves studying epilepsy, a chronic neurological condition which manifests with recurrent seizures.
50 million people suffer from epilepsy globally, 8 million in Europe alone. That makes it one of the most frequent neurological diseases. Today, many epilepsy patients live with it for the rest of their lives, thus there is a strong need for a cure. Researchers from the HERMES consortium will study temporal lobe epilepsy, the most frequent epileptic syndrome and the least responsive to anti-epileptic medications.
ALSO READ: Aarhus University opens Denmark's first Centre for Digital Twins
Temporal lobe epilepsy destroys the area in the brain called hippocampus, and the purpose of the project will be to rebuild this area using so-called 'biohybrid neuronics' (neural electronics) based on the functional symbiosis between biological and artificial counterparts. The researchers will create hippocampal tissue in the laboratory and couple it with an electronic device that mimics the normal functioning of the brain.
Biohybrid neuronics will be implanted in the brain of epileptic rodents, where the electronic device, equipped with artificial intelligence, will be used to guide the correct integration of the biological component within the brain.
The electronic device will be used to train the transplanted tissue until the damaged area has been fully regenerated and is functioning normally, after which the artificial component will shut down.
ALSO READ: Engineering students to present 54 ideas for a better world
The HERMES project was launched at the beginning of January 2019 and will run for five years. In addition to Aarhus University, the project partners are: Istituto Italiano di Tecnologia (Italy), Università degli Studi di Modena e Reggio Emilia (Italy), Università degli Studi di Verona (Italy), Agencia Estatal Consejo Superior de Investigaciones Cientificas (Spain), Politecnico di Milano (Italy), University of Glasgow (UK), Tampere University (Finland), Fundacion Instituto de Estudios de Ciencias de la Salud de Castilla y Leon e Universidad de Salamanca (Spain), Eurokleis S.r.l. (Italy), Radboud Universiteit (Netherlands), Den Institute (Belgium).
The project is coordinated by Istituto Italiano di Tecnologia (Italy).
---
Contact
Associate Professor Farshad Moradi
Mail: moradi@eng.au.dk
Phone: +45 41893344