Department of Engineering
New magazine on engineering science at Aarhus University
If you are interested in the green transition, sustainable technologies and solutions to society's major issues, then take a look at the Department of Engineering Profile 2020, which is now out.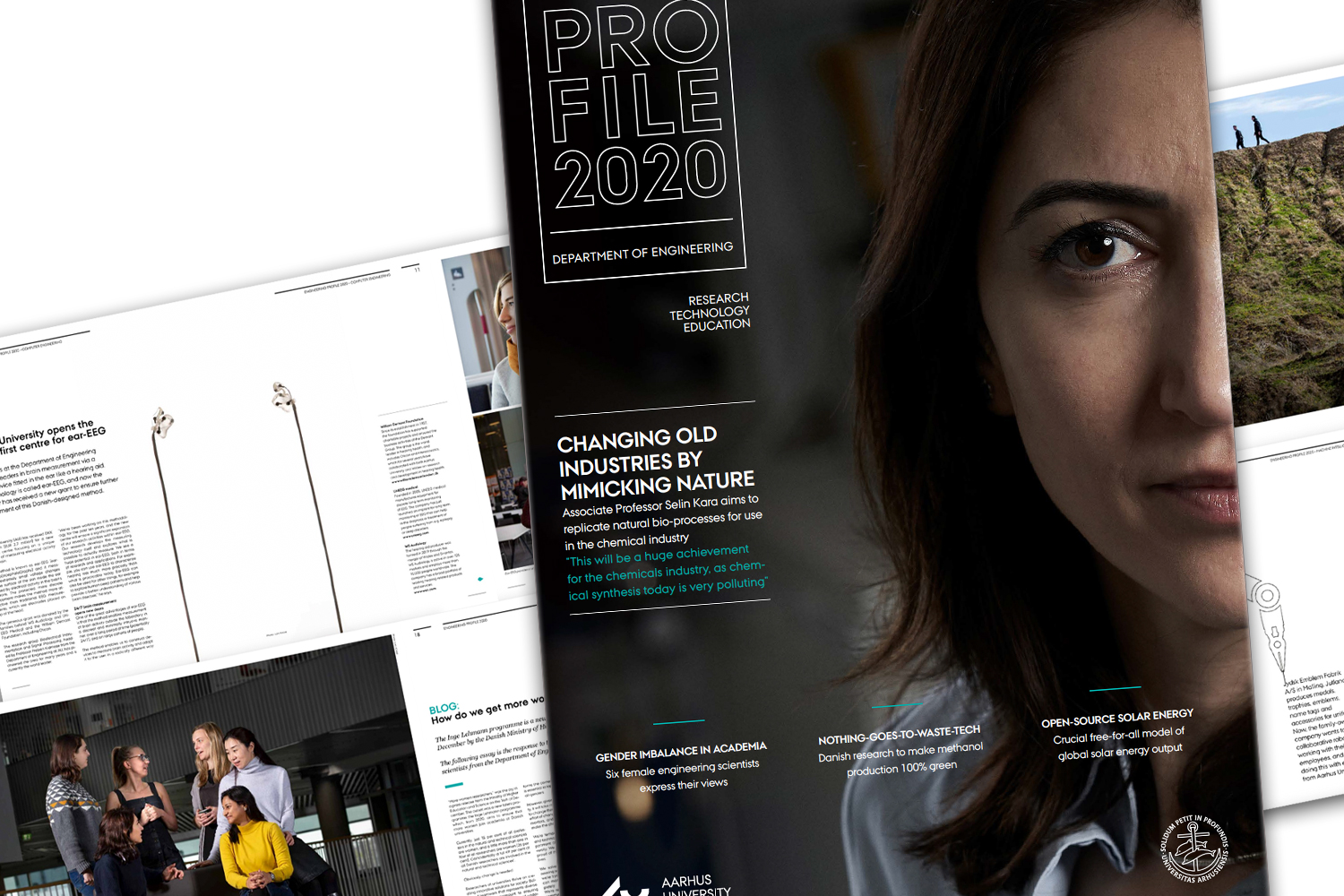 Climate change, pollution, environmental disasters, overpopulation, famine. There's no shortage of problems in the world.
Fortunately, a lot of people all around the world are striving to solve these problems. A good many of them are engineers, because, with its innovative, creative and research-based DNA, engineering science can forge the foundation for a sustainable future via technology.
The Department of Engineering at Aarhus University has many researchers, all working hard to find solutions to the world's major problems. Many of them are working in collaboration with national and international companies, centres of knowledge and universities.
For this reason, we have published a new profile magazine, and once again, we're proud to showcase some of the research that could have a crucial impact on things like the green transition.
For example, you can read about "nothing-goes-to-waste-technology", where we're aiming to create high-value products out of the filthiest residual products from society. Or how we can change old polluting industries by means of completely natural bioprocesses.
You can also read about new wind-turbine research that breaks away from the normal three-bladed giant turbines, or about a brand new open-source solar-energy model that our researchers have made available to anyone who wants to use it.
"The world is facing major challenges, and our researchers are working hard to address them and find green solutions. We want the knowledge we generate here at the Department of Engineering to benefit all of society. And we can do this via our partnerships with business and industry. Developments will continue at full speed in 2020 and onwards, and we hope that many more companies will take the plunge and solve problems with us," says the head of the department, Thomas Toftegaard.
If you and your company are interested in learning more about what we could do together, and what a collaboration with us can lead to, then contact us at: eng.au.dk/workwithus. You can also order a physical version of Department of Engineering Profile 2020 on the same website.
The electronic version can be downloaded from here: eng.au.dk/profile2020.
Enjoy the magazine!