AU Engineering
Super design for buildings based on artificial intelligence
Computing power is now so strong that it can design building constructions with such a degree of perfection that architects and engineers have to give up. Students are responsible for the super algorithm that controls everything, and could revolutionise building procedures when it is launched early next year.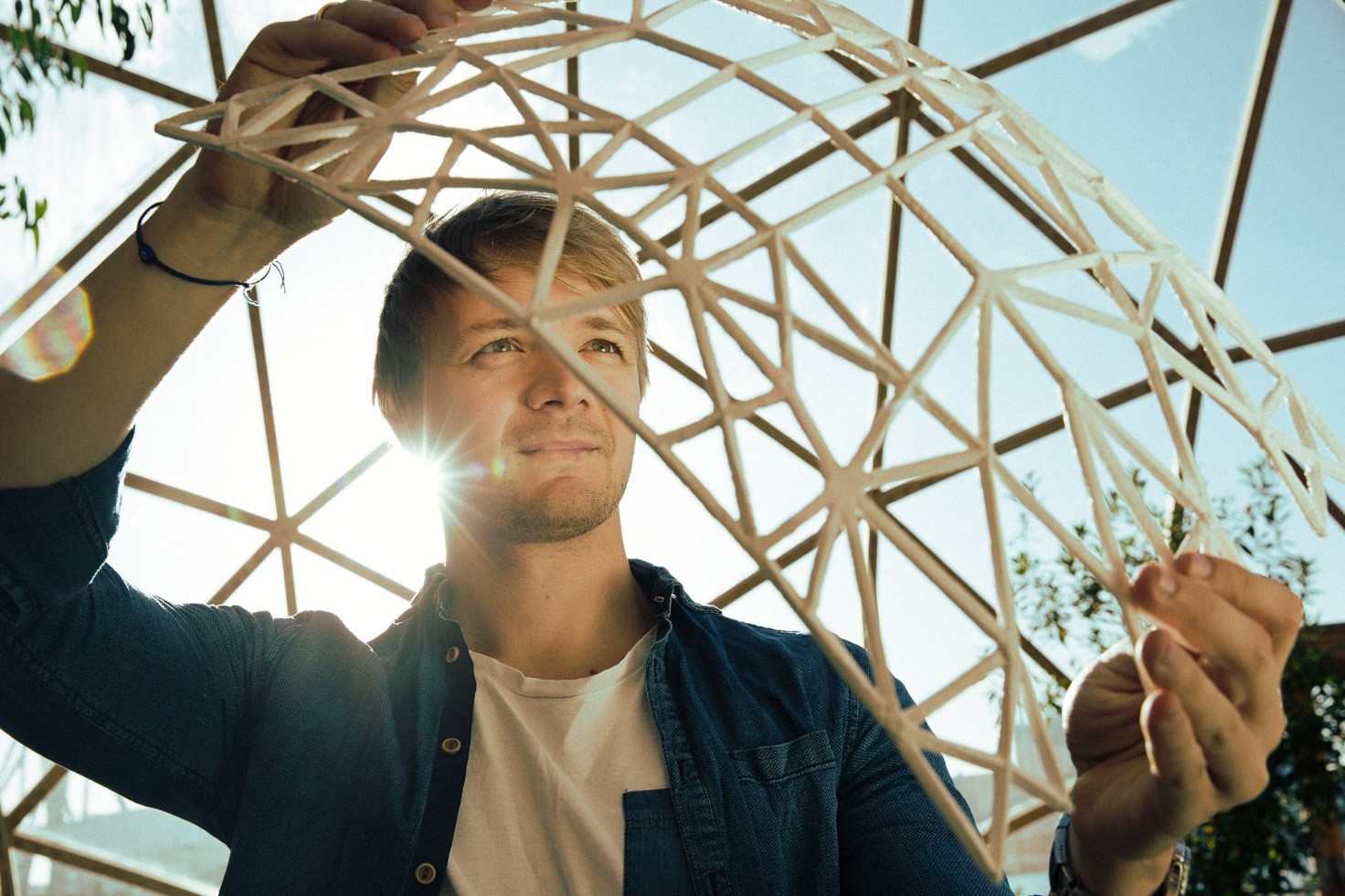 MSc in Civil and Architectural Engineering Lasse Rahbek worked with a former fellow student from Aarhus University to print a model for a grid-scale construction. This can be used for large-scale canopies like the dome at the British Museum, London.
Read more (in Danish only) below. For contact details in English, go to the bottom of the page.
Det særlige ved modellen er, at den er tæt på perfekt med optimale egenskaber i forhold til vægt, styrke, stivhed og æstetisk udtryk.
Og så er det et computerprogram, der har klaret alt det design- og regnearbejde, som ellers ville have taget flere år for en hel hær af ingeniører og arkitekter at gennemføre.
"Computeren laver en kompleks analyse og finder den mest fordelagtige struktur med et optimalt forhold mellem geometri og stivhed. Det betyder, at konstruktionen opnår en fantastisk styrke, en smuk form og et minimalt materialeforbrug," siger Lasse Rahbek.
Han fik idéen til at arbejde med kunstig intelligens i byggeriet i forbindelse med sit speciale og har nu udviklet en algoritme til gitterkonstruktioner, der overgår menneskets evne til at finde komplekse sammenhænge.
Darwin bag den perfekte gitterskal
Den computerdesignede gitterskal er baseret på en såkaldt genetisk algoritme, der efterligner biologisk evolution ved hele tiden at sørge for, at det kun er de bedste konstruktioner, som får lov til at føre deres gener videre til næste generation.
"Algoritmen virker som en form for "survival of the fittest". Den deler konstruktionsforslagne op i par, som arver de gode egenskaber fra hver forælder. Generation for generation bliver gitterskallerne bedre, fordi computeren kan bevare overblikket over de mange kombinationsmuligheder og identificere, hvad der fungerer bedst," siger Lasse Rahbek.
Den konkrete model på billedet er nedarvet gennem intet mindre end 400 tilfældige konstruktionsmønstre og 100 generationer i en proces på 18 timers computerbaseret regnearbejde. Og så er den i princippet bare et eksempel på brugen af kunstig intelligens til at løse svære designopgaver.
Ifølge Lasse Rahbek er det kun fantasien, der sætter grænser for, hvordan Darwins gamle evolutionsteori i form af nye algoritmer kan skabe innovation i alle dele af byggeriets værdikæde.
Ingeniør og computer i parløb
Og hvad så med ingeniøren? Hvad med arkitekten? Hvordan ser deres fremtidige arbejde ud? De får til opgave at fodre computeren med information og på den måde styre dens intelligens i forhold til det resultat, de ønsker at opnå.
På samme måde har Lasse Rahbek lagt en række kriterier ind i det nuværende computerprogram til design af gitterskaller, som skal sikre, at algoritmen finder netop de konstruktioner, der har det bedste match mellem vægt, stivhed og størrelse på gittercellerne.
"Man kan vægte de forskellige kriterier og belønne et mønster, der for eksempel har et særligt lavt materialeforbrug eller ser pænt ud. Man kan også stille betingelser som for eksempel, at stængerne i gitteret skal have en bestemt længde. På den måde kan man sige, at den menneskelige hjerne stadig er ret afgørende for, at det endelige designforslag passer til de omgivelser og den virkelighed, bygningen skal indgå i," siger Lasse Rahbek.
Hans projekt er støttet af Boligfonden Kuben. Computerprogrammet skal efter planen tages i brug af arkitekter og rådgivende ingeniører allerede i starten af det nye år.
For more information, please contact
Lasse Rahbek, MSc Eng
Hamiconsult
M: +45 2750 9460
E: lr@hamiconsult.dk
Professor Poul Henning Kirkegaard
Department of Engineering
Aarhus University