Department of Engineering
"The only real choice". Thanks to yet another group of talented engineering MSc's
Last Thursday, 121 graduated with an MSc in Engineering from Aarhus University. They are entering a world with unsurpassed and global career opportunities. Thanks to you all for your eagerness, energy and enthusiasm. You are our most important contribution to society.
On Thursday, yet another group of Denmark's most coveted university students with an MSc Eng from Aarhus University graduated to song and festivities at Navitas, Aarhus Ø.
There was good reason for celebration, because the 121 newly graduated engineers can look forward to exciting careers. The world needs deep technological know-how more than ever before, and this means unprecedented opportunities for new graduates, said Head of Department Thomas Toftegaard in his thank-you speech.
"The greatest contribution this department can give to society is your education. Because you are Denmark's future. We are all well aware of the major challenges facing the world. Everyone's talking about them. And we need technology to solve them. That's why we need all of you. Your know-how is crucial for the global community," he said to a full lecture theatre.
Impact on real life
Two of the new graduates are 25-year-old Cathrine Bisgaaard and 28-year-old Kenni Svendsen. And even though they're both overjoyed at finishing their degree, they both look back on a programme with huge significance for their journey.
"I've been so happy to study engineering. Especially because we've not just sat and read. The programme is a really good combination of theory and practice, and you very quickly realise that what you're doing on the programme actually has an impact on real life," says Cathrine Bisgaaard, who has an MSc in Engineering in chemistry and biotechnology.
(Article continues below the image)
Kenni Svendsen (center) with his fellow students. Kenni has an MSc in mechanical engineering. Photo: Haslefoto.dk.
Kenni Svendsen backs her up.
"My programme here at Aarhus University has given me almost an intuition for how to solve a problem. I can almost see the solution in front of me when I'm faced with a problem. And that gives me great peace of mind," he says, adding,
"If you love science, especially if it's a bit technical, you should study engineering. There's no doubt about it - it's the only real choice."
Both Cathrine and Kenni are already looking for a job, and neither of them is worried about the possibilities.
"I can see that we are in demand. Even at the very beginning of the programme, companies from far and wide were asking us to send applications. So we'll probably find a job very quickly," says Kenni Svendsen.
(Article continues below the image)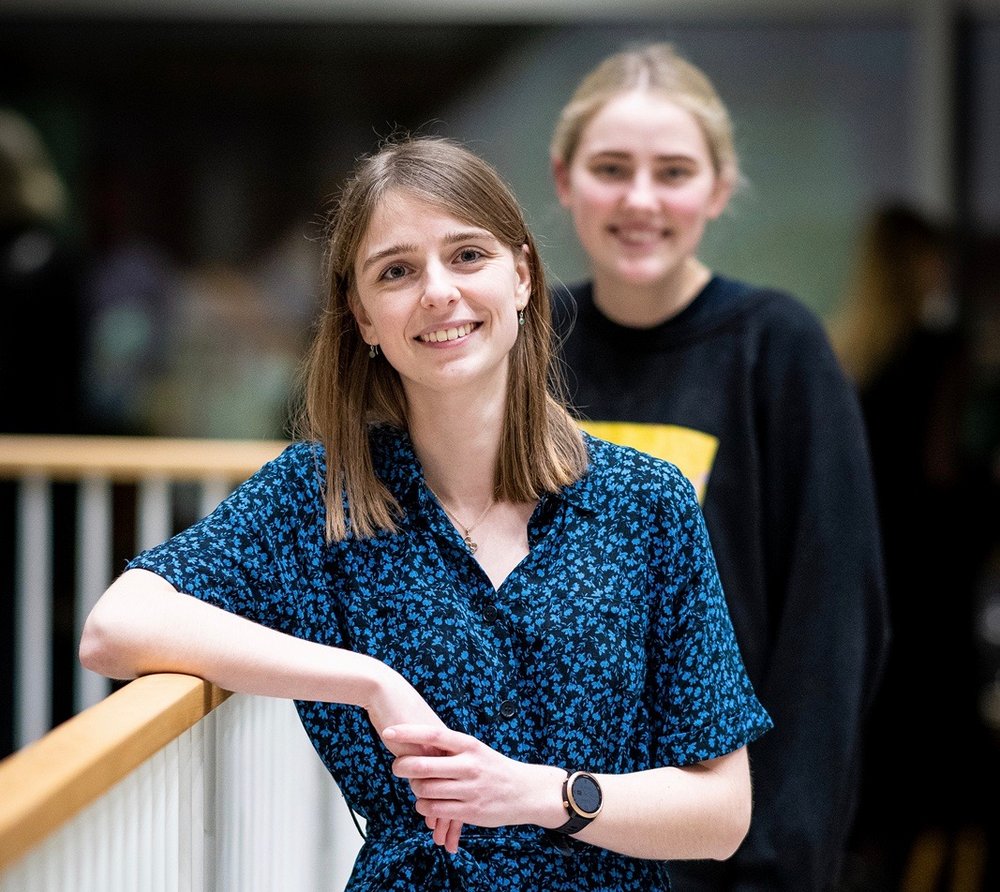 Cathrine Bisgaaard, MSc in Engineering in chemistry and biotechnology Photo: Haslefoto.dk.
Remember to keep on learning
He may be right, because there is no doubt that there is a shortage of engineers in many parts of the world.
The Danish Society of Engineers, IDA, has forecast the shortage of engineers and science graduates, and the figures show that, despite increasing interest in the technical and natural sciences, Denmark alone will have a shortage of approx. 9,300 engineers in 2025.
This also means that the many new graduate engineers can look forward to high salaries as well as an exciting and fulfilling career.
The latest statistics show that pay for new MSc in Engineering graduates has risen by approx. 6.5 per cent over the past year, and they are approaching a starting salary of more than DKK 40,000 (EUR 5,300) per month.
After ten years on the labour market, salaries are around DKK 70,000 (EUR 9,300), and engineers have one of the highest lifetime incomes of all business groups.
But pay is one thing. A career is something else. That's why it's important that you don't just throw yourself into the first thing that comes along, as Thomas Toftegaard reminded the young graduates, because in his view the first 3-5 years will make a big impression on the rest of their careers.
"So remember to keep on learning," he said, and quoted Albert Einstein,
"Education is what remains after you have forgotten everything you learned in school".
---
Read more about study programmes in construction: