AU Engineering
Business duo: business collaboration will strengthen engineering research
Aarhus University and the business sector should work together even more in the future if it is up to Andy Drysdale and Christian Nielsen – two new staff members at the university, both of whom have a history in which innovation and technology-based business development are paramount.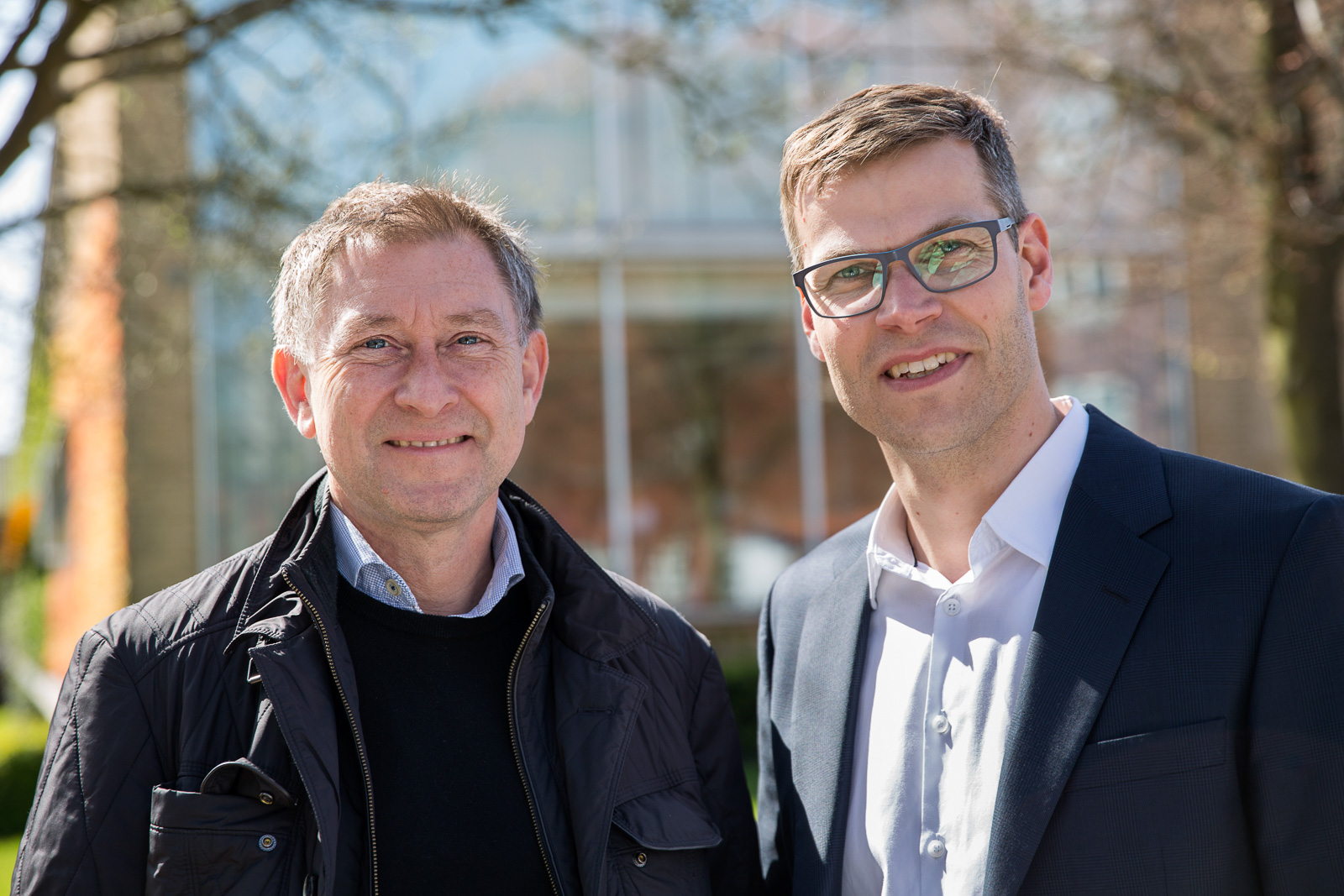 How do you get entrepreneurship and innovation to prosper in industry?
A shot of engineering and new technologies could be a safe bet. At least, this is the opinion of business developers Andy Drysdale and Christian Nielsen, who were both recently appointed to the Department of Engineering, Aarhus University.
The department is in full swing implementing an ambitious and interesting growth strategy that provides an opportunity to create more research results. Meanwhile, according to the duo, the aim is also to build up even closer relations – and better collaboration – with the business sector, and this is much needed on both sides.
"When you talk about research, the results and solutions are normally way out in the future. You work on things for a long time. However, not only small and medium-sized enterprises (SMEs), but also large companies all over Denmark often have an immediate need for new knowledge, technology and innovation. This is where we can help by providing a sounding board from the front row of the stalls in application-oriented research, so that companies can benefit from us, at the same time as we benefit from them," says Andy Drysdale.
The university's ambition is quite simply to be of use to society by implementing more of the many inventions that see the light of day at the Department of Engineering. At the same time, both researchers and the engineers of the future can also find inspiration in what is really required by the business community.
"True innovation is taking your invention and making it useful. There are certainly lots of interesting projects, technologies and inventions here at the department where you can simply see enormous potential, particularly if you start thinking more strategically and commercially. The department is in the middle of an extremely exciting stage where we're growing madly. This in itself provides a lot of opportunities and potential," says Christian Nielsen.
In addition to promoting business collaboration, the Drysdale and Nielsen duo will head Smart Industry – a new Industry 4.0 project for the Central Denmark Region. The aim of the project is to take a group of SMEs on a journey of development with a knowledge institution, providing the companies with a shot of vitamins as regards improving their products and services via new technology.
Andy Drysdale graduated as a physicist from a university in London and subsequently completed an MBA in Aarhus. He worked at the Technological Institute for 15 years, the Alexandra Institute for 5 years, and as director of Insero Business Services for 5 years.
Christian Nielsen graduated from Aarhus University with an MA, and also spent several years working at the Alexandra Institute. For the past 5 years, he has been senior adviser and business development manager at Insero, where he helped technology-based start-ups to accelerate their business.
For more information, please contact
Programme Manager Andy Drysdale