AU Engineering
Engineering alumnus nominated for this year's European Inventor Award
As a child, he has spent hundreds of hours on the playroom floor, playing with small plastic bricks. As an adult, he landed a dream job with the LEGO Group. His job was to develop programmable toys. Now he has been nominated for the European Invention Award - one of the world's most important inventor awards. This is the story about the electronic engineer from Aarhus who brought technology down to children's level.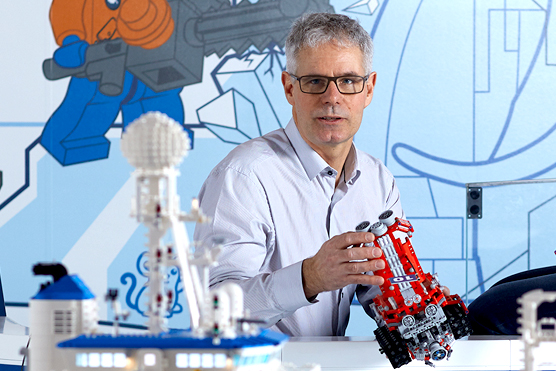 It says Aarhus 1992 on his exam certificate. This was when Gaute Munch graduated as an electronic engineer from the then Teknikum, which later became the Aarhus University School of Engineering.
As a newly graduated engineer, he worked with industrial automation. It was a good job with many challenges, and for five years he was helping increase the efficiency of Danish manufacturing companies.
Butt then came an opportunity to work in his dream job in Billund in Jutland, when LEGO was looking for a creative and passionate engineer for final development of the MINDSTORMS® range.
He wrote history with a simple programming language
He went into the new job with a feeling that this was somewhere where he would be able to combine his technological insight with his creativity. But he never dreamed that he would make an historic imprint on the development of toys for children all over the world.

"We had a feeling that we were on to something rather important. I remember thinking that I would've been thrilled as a child myself. But we did not for one minute imagine that LEGO MINDSTORMS® would become an evergreen with such broad appeal. I believe that the reason for the success is basically that we've developed a simple graphical programming language that brought technology down to children's level," says Gaute Munch.
Since the late 1990s, the LEGO Group has launched three generations of programmable toys based on Gaute Munch's patents, thus instilling enthusiasm for technology in millions of children all over the world.
The Oscars for inventors
The European Patent Office is behind the European Inventor Award – an event that can be described as the Oscars for inventors. The winners will be announced at a grand ceremony in Paris in early June, and Gaute Munch has been nominated for no less than four patents on programmable toys.
"I'm very pleased with the nomination. It's a great honour. But the thing that I'm most proud of is that we've managed to develop toys that encourage children to be creative with technology. It's inspiring to see how they use our products. They're not conformist in their thoughts. They're used to being at the edge of their platform of understanding, while adults tend to seek towards safer ground. It's extremely educational for them and us," says Gaute Munch.
Similarly, the President of the European Patent Office (EPO), Benoit Battestelli, emphasises the democratisation of technology through play as one of the main reasons for their nomination of Gaute Munch.
"Robots and robotics were once reserved for IT professionals and scientists, but with programmable toys everyone - children as well as adults - can invent and develop," he says.
Innovation takes place between humans
Gaute Munch has also been involved in the LEGO BOOST® team, and today he is still working on developing technology platforms for programmable toys.
"Since LEGO MINDSTORMS®, we've seen a revolution in digital devices. Today, children have access to both smartphones and tablets, and therefore they have a more direct and tactile connection to the digital world. This offers interesting opportunities for the next generation of LEGO technology," he says.
When asked about how you maintain an inventive talent, Gaute Munch answers:
"You need to be open and see things from new angles. You need to interact with others and welcome their perspectives. Many people think that an inventor sits behind closed doors in a laboratory or workshop and comes up with brilliant ideas. That's not the way it works. Innovation takes place between humans."
And then there is curiosity and a thirst for knowledge which, according to Gaute Munch, are key components behind all good inventions.
"Curiosity and a desire to broaden their understanding are characteristic for most inventors, and in reality also for most engineers. An engineering degree is not a finished chapter when you leave university. When you receive your diploma, you've only just begun."
MORE INFORMATION
Gaute Munch, his colleague Erik Hansen and their department in the LEGO Group have been nominated in the "Industry" category for the European Inventor Award 2018 for developing and maturing the LEGO MINDSTORMS® system over the past 20 years.
The first computer-based LEGO brick was developed in collaboration with the Massachusetts Institute of Technology (MIT). It was battery-operated and was able to control robots through sensors and small motors via an infrared connection.
The system has, of course, evolved over time. The first brick had a capacity of only 32 KB RAM. The latest computer-based brick (EV3) runs on a LINUX operating system based on a 300 MHz ARM9 controller with 16 MB flash memory.
The robot toy is based on four key patents.
Read more about the patents behind LEGO's programmable toys
Read more about the European Inventor Award